New York City is huge, frantically busy and can be utterly overwhelming.  It's a must-see destination, but untangling myth from folk-lore, political spin from native pride or salami from boloney can sometimes get in the way of really enjoying the place or seeing beyond the set tourist attractions.
So how do you cut through all that and get to the heart of this great city? You get yourself a guide – but not just any guide. Find yourself a
Big Apple Greeter
, and you step up into a whole new level.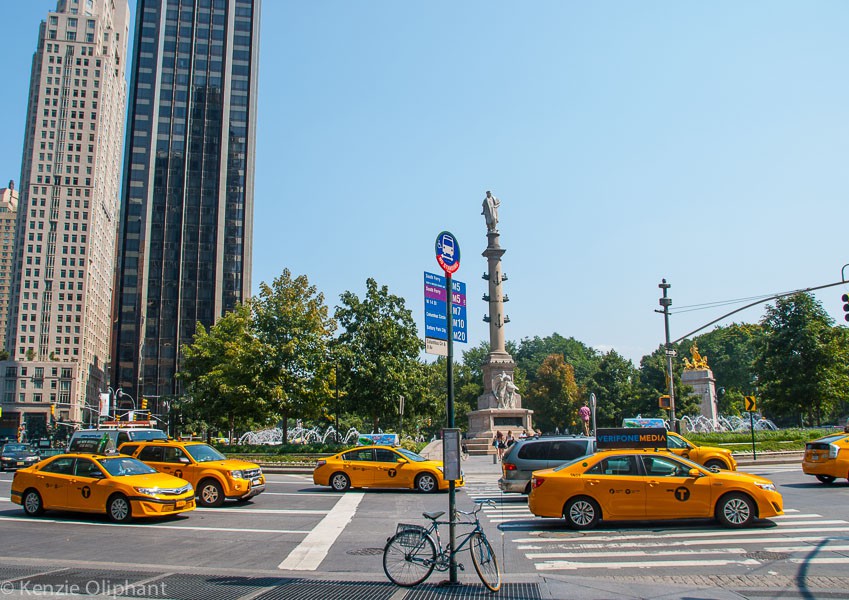 New York Born and Bred
"Hi, how'ya doin'?" He ground out the words like they were chewing gum yet still managed to sound friendly over the phone. I scrambled to identify which New York City brogue was bending my ear. I'd always been good with accents. I guessed Brooklyn.
He laughed, a crunchy, delighted noise. "Originally I came from th'Bronx, but I been livin' in Queens for over thirty years now." That's kind of near Brooklyn, right?
His name was Albert. We agreed a time to meet the following morning. Excited to talk to a local, I was a little early. Perhaps not so excited to meet yet another foreigner, he was a little late.
But it didn't really matter when this bald, exuberant, charming man in glasses and a white goatee burst through the door full of apologies. His tan alone told me that he loved his job. He looked exactly like the picture his voice had conjured in my mind. We instantly hit it off.
As we headed out to the nearest Subway station, he asked me about Australia and my travels so far. In turn, I asked him about his life and discovered that he was happily married for the second time, and now almost seventy, officially retired. But health problems had prompted him to stay away from the couch and TV and instead, develop interests that kept him active. Becoming a Big Apple Greeter for a former salesman like Albert was a perfect fit for his ready laugh and big personality.
It was another stinking hot summer's day in New York City, devoid of any hint of breeze, lacking even the promise of a cool change in the evening. I was beginning to question the wisdom of spending the whole day walking around the city. Albert more than happily accommodated my need to avoid getting overly hot and ensured that we mixed it up a bit, walking then stopping inside crisply air-conditioned buildings (which I'm ashamed to admit I love) or at least in the shade.
Our first stop was a sobering one. The spectre of 9/11 looms large over any visit to NYC, and Arthur's response was to take me to one of the fire stations most heavily involved in the response to the attack on the Twin Towers. Engine 54, Ladder 4 and Battalion 9 lost 15 men and the station still bears the scars today. There is a tender and touching memorial on the wall outside the station, but inside the door there's a board with photos of each of the men, reminding current members of the ultimate sacrifice that was made.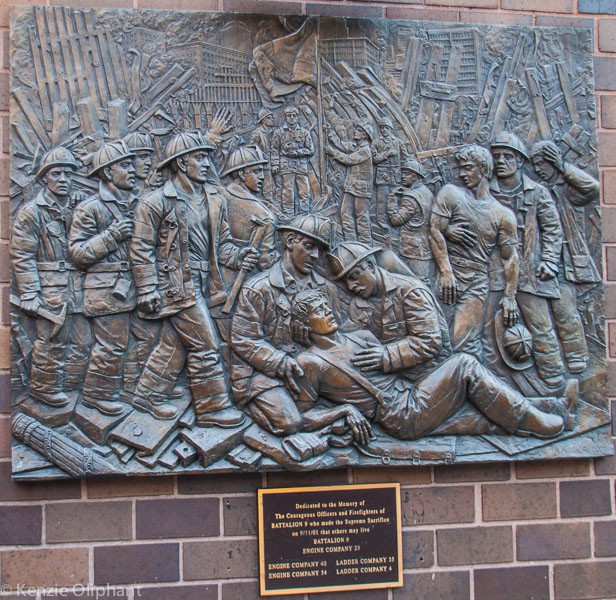 Standing outside the station, looking at the plaque made me think not just about New York's huge loss of life on 9/11, but the fact that these guys were ordinary people just going about their jobs. As a foreigner, it can be all too easy to see only the bigger picture of that day, and how it went on to affect the whole world. But this memorial is about this station, these guys – victims and survivors. It's still very personal for them and I suspect, always will be.
Our next stop was more cheerful and a must for all fans of a New York favourite, Seinfeld: the shop that inspired the infamous Soup Nazi episode. The Original SoupMan shop is a local legend that's become the cornerstone of a franchise empire (and yes, the "rules" are still on the website). Although benefitting from the inadvertent PR provided by the TV show, the actual soup man, Al Yeganeh, despises the title of "Nazi" – a not unreasonable position.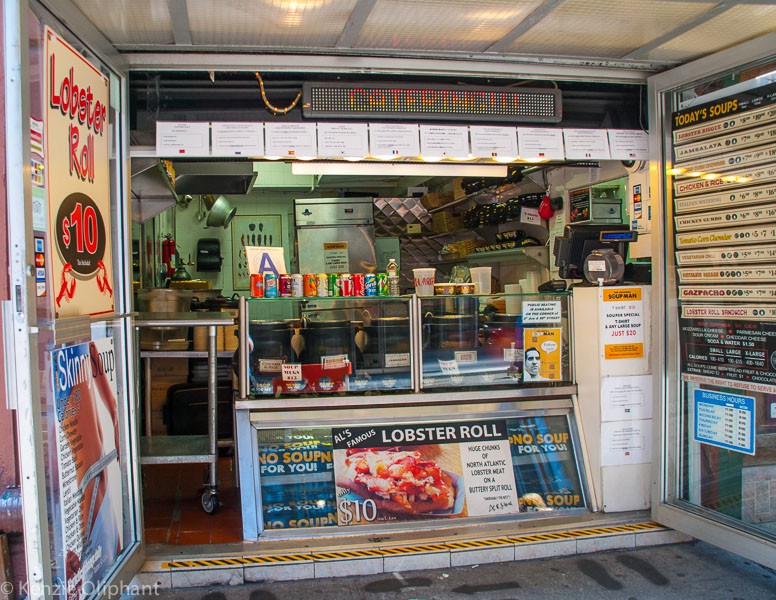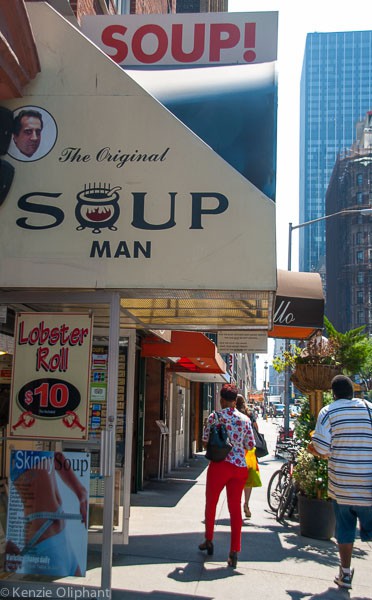 Even so, his original shop rules can still be found on the website, and Seinfeld's character, George appears on the front page. Interestingly, actor Larry Thomas who played the Soup Nazi in the series has used the role to promote soup kitchens for the homeless.
From lowly soup to high rise luxury, Albert delivered me to the lobby of New York's Mandarin Oriental Hotel next. From the 35th floor of the Time Warner Centre I got a stunning view of Columbus Circle and the enormous green ocean of Central Park. The staff all know Albert and had no problem standing to one side so I could take a photo of the permanent ice sculpture in front of the Desk.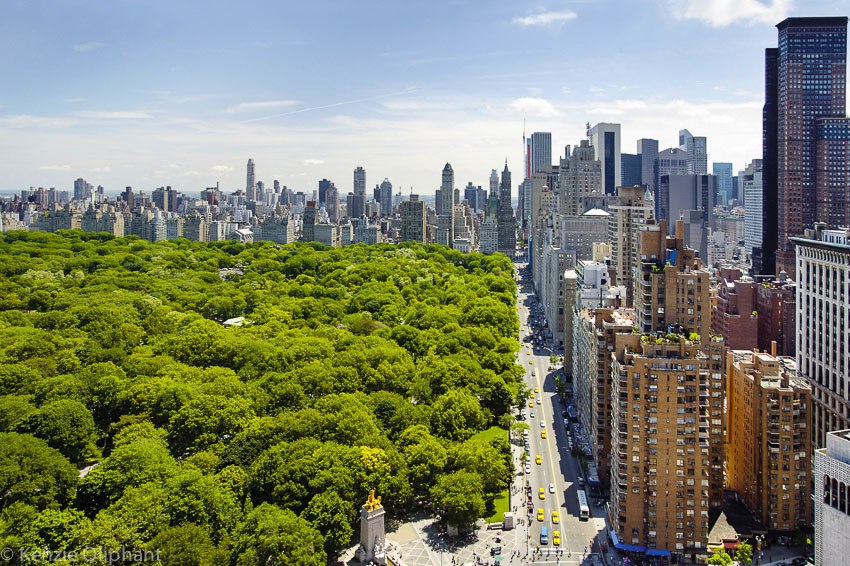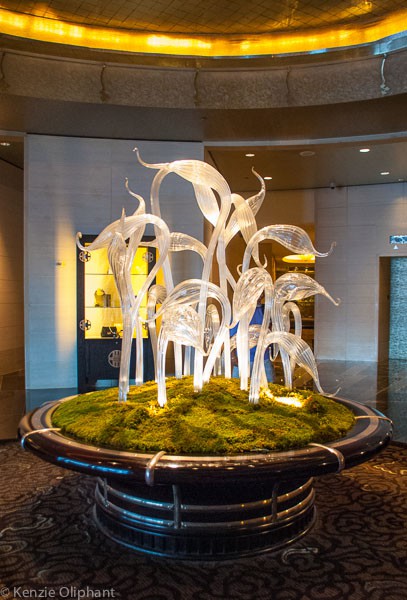 Albert then showed me how ordinary people shopped for groceries in a city that doesn't have room for supermarkets and shopping malls. A short flight of stairs later and we were underground in a farmer's market full of fresh fruit and vegetables shipped in to New York every day. The nearby streets were full of provedores and delis and my fingers itched to taste and shop. Only the prospect of having to lug my purchases around for the rest of the day stopped me.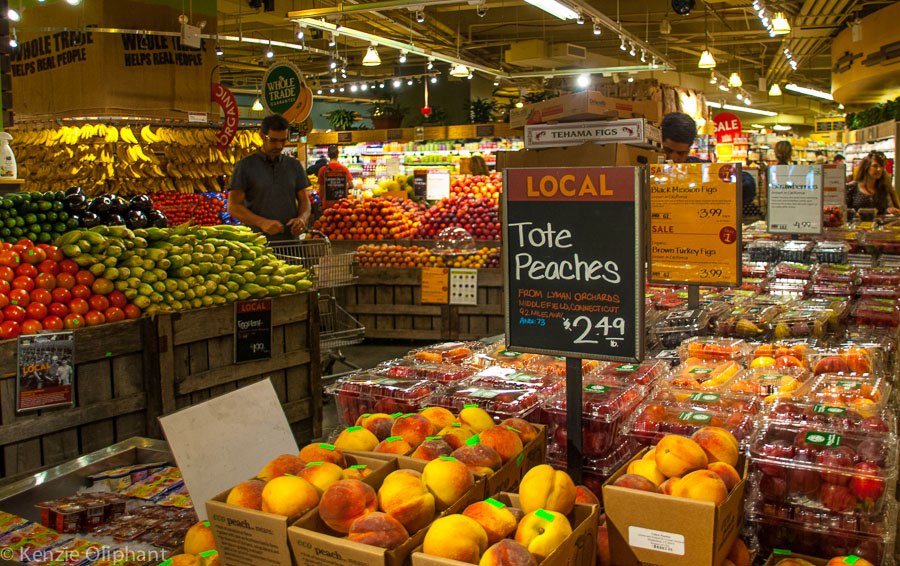 Fifth Avenue is a legend that needed no introduction. With a good eye for what would interest me most, Albert took me inside Tiffany's Flagship store in New York and introduced me to the Concierge who was more than happy for me – penniless backpacker that I am – to ogle and gawk at the stupendous Tiffany Diamond proudly on display. I was allowed to take photos. I was even tempted to ask to try it on…
The Diamond has a long and not always shiny history, but it was the same one (in a different setting) worn by Audrey Hepburn in one of my favourite films, Breakfast at Tiffany's and is indeed beautiful.
We wandered through Central Park as far as the Zoo, then headed to the huge toy store FAO Schwarz, made famous by the Tom Hanks movie, Big. Inside you can see and play on the same giant keyboard. The toy store was a revelation for me and had more excuses to stop and play than even the provedores (which is really saying something!). I think the staff have the best jobs – all day they play with the toys so the customers can see how good they are and buy them. Not a bad way to earn a living.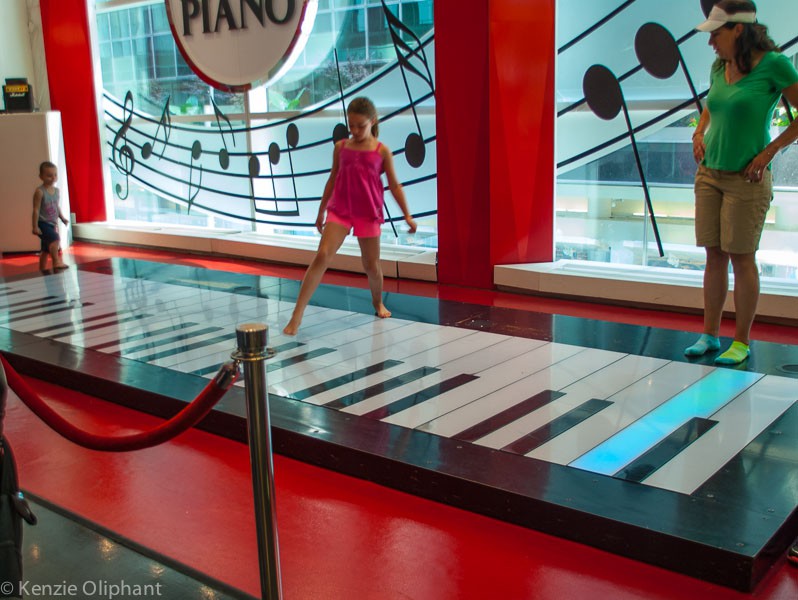 My tour finished up outside the doors of MOMA – the Museum of Modern Art, a must-see for my trip to New York. After a day full of chatting and exchanging opinions and ideas, I said a rather sad farewell to Albert.
I was exhausted. I headed for the nearest cafe and sat down to have lunch and a restorative brew. As I ate and reflected on all the stops we'd made through the day, I realised what Albert had really shown me of his city. From the large to the small, the wealthy to the ordinary, Hollywood to mundane – he'd managed to give me a glimpse of just a few of the many little stories that make up the opus that is New York City.
Of course, the other thing he did was just make me want to come back for more. For a place like this, no visit, however long will be enough to really get to know it like a local.
Have you ever used a Greeter? How was your experience?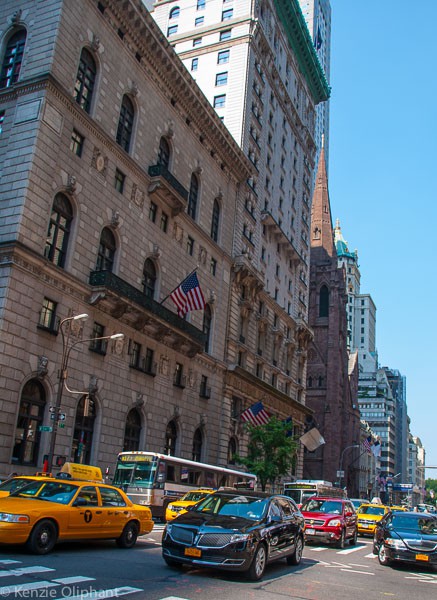 Big Apple Greeters – Volunteer Locals Showing Off New York
Since 1992 Big Apple Greeter has been providing local guides to NYC visitors. All guides are volunteers who enjoy showing strangers around the city they're so proud of. Volunteers don't just go around the most famous spots, but instead show people through their local neighbourhoods, highlighting little-known stories or features you might never know about otherwise. These people are passionate about their home city and can't wait to share it with you. To book a guide, you need to email your request with the area you'd like to visit. Big Apple Greeter will then try to match you up with the right person on your chosen day. I recommend sending your request in at least a couple of months in advance. You should also have a good idea of the neighbourhood you want to visit, with a couple of alternatives worked out. This will increase your chances of having a guide available. Greeters only take one person/group at a time, so each trip is tailored around you and what you want to see. This is a huge benefit, so make the most of it. Each tour runs between 3-5 hours, depending on the Greeter and the location. All costs such as Subway fares, drinks etc. are your responsibility. Greeters are provided for free – however, the service itself costs money to run. You are welcome to donate to via the website but please, do not offer the guide any money. Donations large and small are always welcome.